Obi-Wan Finale - The Loop
Play Sound
Carlos Rivera



Nicknames:

The Beltless Champ, The Nameless Champ

Weight Class:

Bantamweight

Rank:

6 (WBC) (Retired)
Carlos Rivera is the 6th ranked WBC boxer from Venezuela. He's been dubbed as the "Beltless Champ" due to people thinking that the WBC champion, Jose Mendoza, is avoiding a match with him.
Yoko Shiraki brings Rivera over to Japan to give Joe Yabuki a "new Rikiishi" to reinvigorate the declined boxer. In Japan, Shiraki organizes matches with Carlos against #2 ranked Japanese Boxing Commision (JBC) fighter Koji Nangou, #1 ranked JBC fighter Ryu Harajima, and JBC Champion Tiger Ozaki.
Carlos ends up looking clumsy and uncoordinated against the Nangou and Harajima, disappointing both his world ranking and his nickname of the beltless champ. However following these two matches he quickly knocks out the Japanese champ, Tiger Ozaki, in one round. His performance in the prior two matches were revealed to be a ruse, a tactic created after previously being avoided in other countries he visited for seeming too dangerous of an opponent. After his quick KO of Ozaki, he announces that before leaving Japan he would like to fight Joe.
In the manga the two men fight an intense tactical match by the ropes before it eventually devolves into a brawl where both fighters repeatedly fouled each other. The results of the match isn't officially stated, but it can be assumed that in the manga the fight ends as a No Contest due to both fighters repeatedly fouling.
In the anime the two men fight an intense tactical match by the ropes before it turns into a straight forward boxing match where Carlos' speed confuses and overwhelms Joe. Eventually though Rivera tires out from the energy it takes to sustain his high speed, high punch output fighting style and his lightning quick punches slow down, allowing Joe to see his punches and turn the bout into a slugfest until the final bell, thus making Carlos one of only of two fighters to take Joe to a decision (3 counting Leon Smiley).
The judges scorecards read 57-56 Carlos, 54-55 Joe, and 55-55 for the final result of a draw.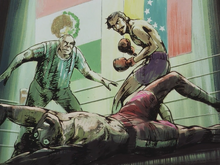 After the fight with Joe he headed to Mexico City to finalize deals with WBC champion Jose Mendoza for a shot at the title. The bout ended 1 minute and 33 seconds into the first round, with Carlos Rivera suffering a first round knockout. Following the match, Carlos' trainer and manager Robert made the statement "Carlos Rivera did not lose against the champion, Jose Mendoza. He was already broken by an unknown Japanese boxer named Joe Yabuki." confirming to the world that Carlos was left punch drunk after his 12 round war with Joe. Jose offers a rematch but Robert immediately turns it down, stating that Carlos will never be able to step into the ring again.